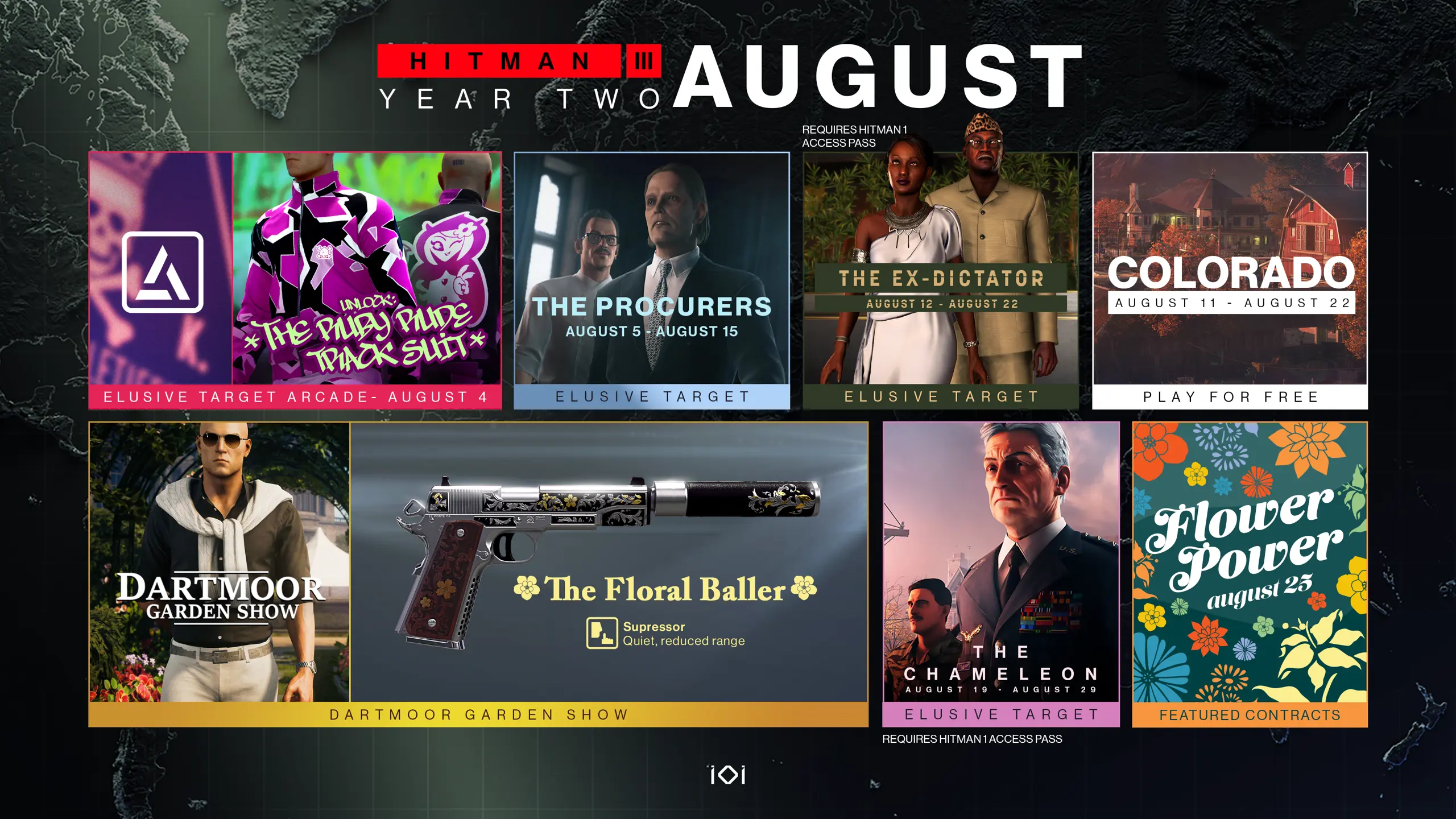 Roadmaps
August 4, 2022
HITMAN 3 - August Roadmap
The HITMAN 3 August Roadmap has arrived! This month in HITMAN 3 you'll find new things to unlock, tweaks to Elusive Target Arcade, flower themed Community created contracts and more. Let's take a closer look at what's to come in August.
August 4 - Elusive Target Arcade
On August 4th a new Elusive Target Arcade will arrive, but this time it's a bit different. We've mixed things up a bit to give more variety to the Elusive Target Arcade formula moving forward. Players will now see a mix of various Elusive Targets from all 3 games in each batch – meaning, one batch will contain 1 Elusive Target from each HITMAN game. We're now able to pick and choose from the full roster of available Elusive Targets to create more variety and themes.
On August 4th players will be able to play The Dyads and the Diabolicals Elusive Target Arcades.
The Dyads Arcade will consist of the duos: The Deceivers, The Procurers and The Surgeons. In The Diabolicals you'll take on The Serial Killer, The Heartbreaker and Mr. Giggles aka The Entertainer.
If you don't own HITMAN 1 or HITMAN 2 don't worry, you can play all targets in the new Arcades just by owning HITMAN 3.
When you complete one of the two new Arcades you'll unlock: The Ruby Rude Track Suit. Get comfortable in this urban, pink and black patterned track suit, with state-of-the-art white sneakers to match. Perfect for that casual hit.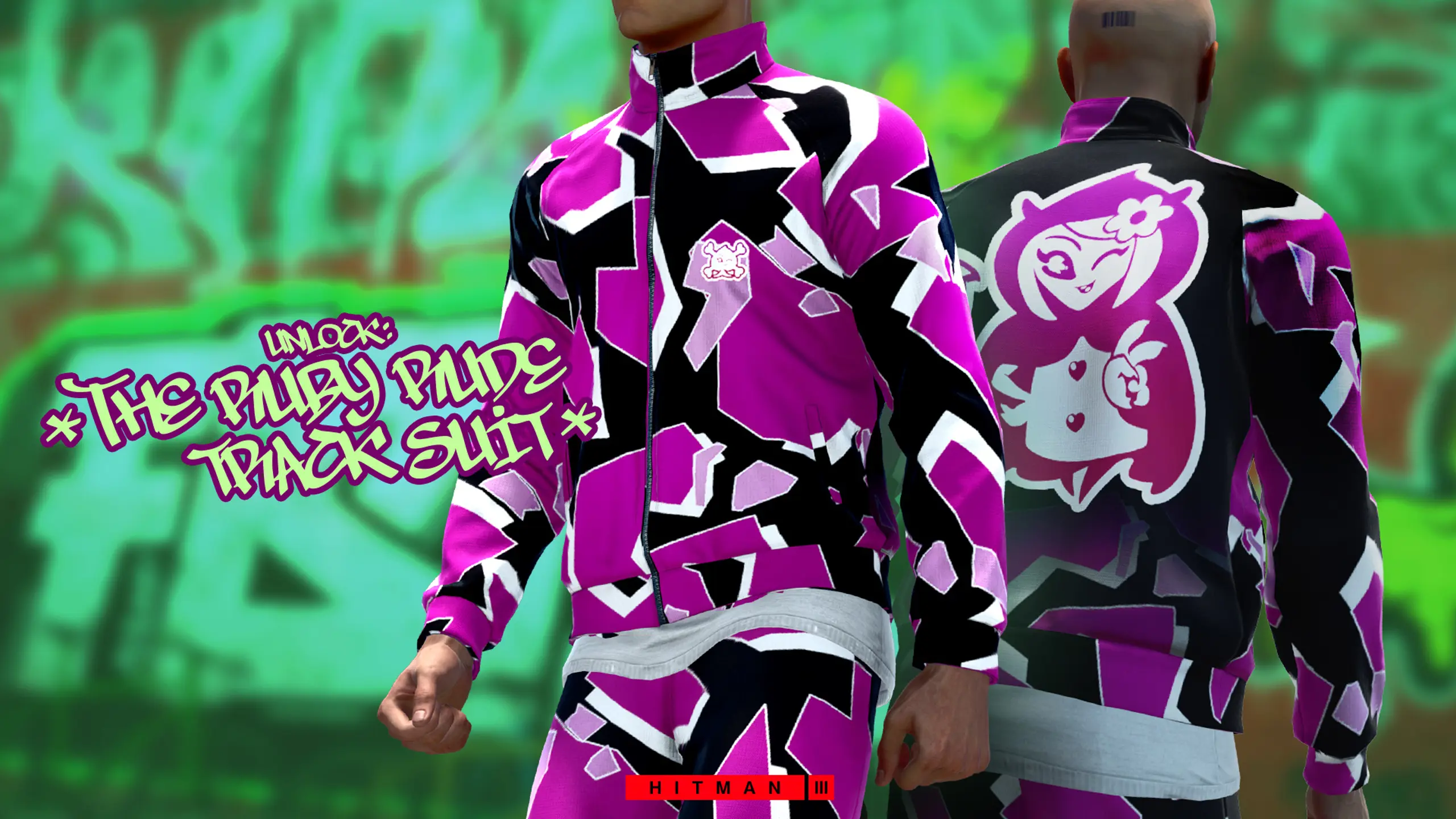 August 5 - Elusive Target - The Procurers (Year 2 Edition)
Dinner is served! The Procurers are back in Dartmoor with their luxurious cuisine. Your two targets are Jack Roe and Robert Burk, they travel the world as the iconic duo The Procurers. They each have unique talents; one is a famous chef behind some of the world's most innovative cuisine. The other is an embalmer.
Together, they've forged an unusual bond and made some powerful enemies. That's where you come in. From August 5, you'll have 10 days to make sure they serve their last supper. Bon Appetit.
August 11 - The Dartmoor Garden Show + The Floral Baller
We've added a new challenge with a beautiful new unlock on the Dartmoor Garden Show. And it's one the florist will envy you for. Come prepared to the Garden Show, with this beautifully floral decorated, silenced handgun. If death was on show, this would surely be the winner. The Floral Baller will be yours to unlock on August 11th on the Dartmoor Garden show. Free Starter Pack Players will be able to experience the Garden show starting August 11th and through August 31.
What is the Dartmoor Garden Show? This unique event is Dartmoor like you've never seen it before. With bright skies above, four distinct gardens have been installed on the mansion grounds to showcase the pinnacle of horticultural excellence from around the world. Each garden has been curated by a world-class Gardner that will present their best blooms to three judges – who you might recognize as familiar characters from the opening of the Burj Al-Ghazali in Dubai.
August 11 - Location Rotation: Colorado
An abandoned apricot farm in Colorado is your next destination on our free location rotation. With the Rocky Mountains as the back drop, this hostile location is a front for a militia training camp – and it's a tough one, so bring your A-game. HITMAN 3 owners and Free Starter Pack players can enjoy this location for 10 days, starting on August 11.
August 12 - Elusive Target: The Ex-Dictator (Year 2 Edition)
Richard Ekwensi and his wife are back in Bangkok starting August 12 for 10 days. Ekwensi better know as known as the Ex-Dictator and his wife Ines aka "The Gold Digger" are at the Himmapan Hotel in Bangkok, they're enjoying a casual stay at the hotel conducting some shady meetings with former partners. They'll not expect you, so use this to your advantage and take them off guard.
August 19 - Elusive Target: The Chameleon (Year 2 Edition)
It's time to find your best "oops that wasn't me" skills – because you're going to need them for this Elusive Target. The Chameleon is back in Colorado, where you'll need to identify him and make sure the entire thing looks like an accident.
He's deep in hostile territory, so be prepared.
Good luck.
August 25 - Community Featured Contracts "Flower Power"
It's time to find your inner florist and get creative once again! In these Community Created Contracts, we're giving players the theme of "Flower Power". How it is interpreted is all up to the creators.
How to get your Contract Featured: It can be based on a super creative briefing, a cool idea or just a plain fun contract. But bear in mind: They have to be inspired by the theme Flower Power to be taken into consideration.
Up for a challenge? Then keep an eye on hitmanforum for the submission thread for your chance to get your contract featured later in August.