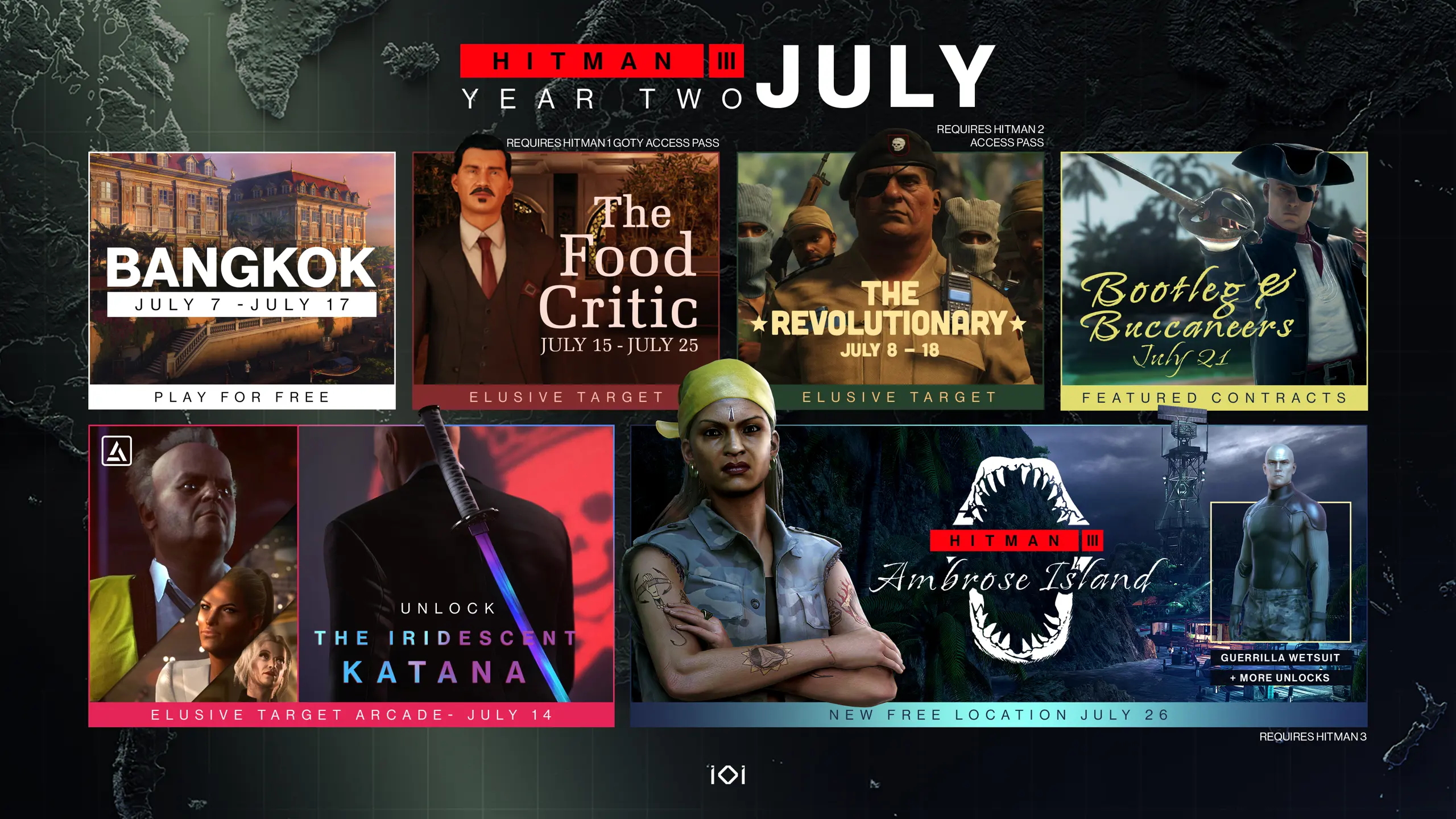 Roadmaps
July 8, 2022
HITMAN 3 - July Roadmap
The HITMAN 3 July Roadmap has arrived, better late than never. July in HITMAN 3 is going to be a very exciting month, with a brand new FREE location coming to all HITMAN 3 owners, a sharp-looking new Katana to unlock, Pirate-themed featured contracts, a Game Update and more. Let's take a closer look at what's to come.
July 26 - New Location Ambrose Island
Discover the uncharted Ambrose Island as Agent 47, and help an old friend rectify his mistake. The tropical island is a hidden cove, home to a dangerous pirate syndicate operating in the Andaman Sea and to many hidden secrets.
This fully explorable sandbox location is packed with new targets, gameplay opportunities, challenges and unlockable rewards. Ambrose Island is free for all owners of HITMAN 3.
More information on the upcoming location will come closer to release.
July 7 - Free Location Rotation: Bangkok
The Himmapan Hotel is your next destination on our free location rotation, where you get a taste of locations from across the World of Assassination.
This luxury hotel and spa in Bangkok is a beautiful and calm location, which makes it a popular destination for the upper class to unwind and celebrate their 27th birthdays. HITMAN 3 owners and Free Starter Pack players can enjoy this location for 10 days, starting on July 7.
July 8 - Elusive Target: The Revolutionary (Year 2 Edition)
The now "fan favourite" Revolutionary is back! Vicente Murillo will be patrolling Santa Fortuna again, for 10 days. If you've tried this one before, you'll know all about what to do. Good luck.
The Revolutionary will be active for 10 days starting July 8.
July 14 - Elusive Target Arcade
On July 14 new Elusive Target Arcades will arrive. This time with a sharp new unlock. Complete any of the batches to unlock The Iridescent Katana.
Don't be fooled by the colourful design. This is a deadly katana, that will make the blood you spill blend in beautifully with the motif of the blade.
July 15 - Elusive Target: The Food Critic (Year 2 Edition)
Wen Ts'ai is one of the world's most highly influential food critics. He has an incredible eye for detail and will criticise the smallest of errors. He recently acquired a security team to protect him whilst he samples the Himmapan Hotels award-winning dishes. This is your moment to strike. 
If this is your first time playing an Elusive Target in Bangkok, the Casual Suit with Gloves will unlock if you complete the contract and make it out alive. Good luck.
July 21 - Community Featured Contracts!
With Ambrose Island on the horizon, we'll keep the featured contracts in the same theme. Pirates. Garrrgh!
How do you get your Contract Featured? Well, there are many ways to do so. Your contract can be based on a super creative briefing, a cool idea or just a plain fun challenge. But keep in mind: Your contract must be inspired by the theme to be considered.
Up for the challenge? Then keep an eye on hitmanforum for the submissions threads – for your chance to get your contract featured later in July.
Good luck matey!
July 26 - Ambrose Island Release
Alongside the new location Ambrose Island we'll also have a game update for HITMAN 3 arriving on July 26. This update will not only give you the new location, but also feature some community reported issues and some QoL improvements.
Patch Notes for Game Update 3.120 will be available July 26.