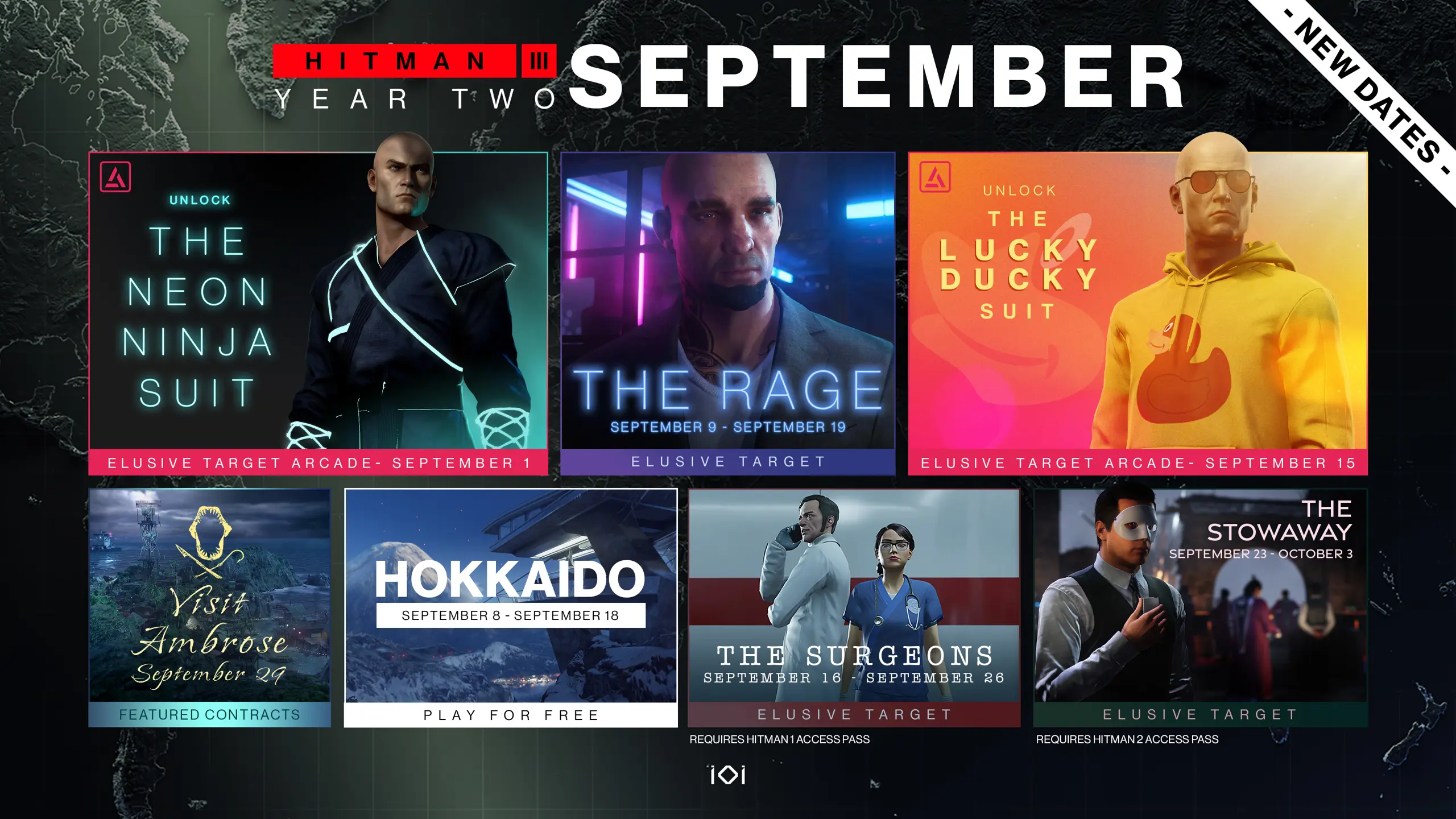 Roadmaps
September 1, 2022
HITMAN 3 - September Roadmap
The HITMAN 3 September Roadmap has arrived! This month in HITMAN 3 you'll find two new fresh looking suits to unlock, Visit Ambrose Featured Contracts, a bunch of Elusive Targets and more. Let's take a closer look at what's to come this September in HITMAN 3.
September 1 - Elusive Target Arcade
To kick off September we have new Elusive Target Arcades with a very illuminating unlock. In this Arcade players will take on The Infiltrators which consists of: The Paparazzo, The Stowaway, and The Collector. With these come one complication – you may only change disguise once.
Players can also go head to head with: The Twin, The Politician and The Black Hat in The Illusory Elusive Target Arcade. Be mindful of who you pacify because in this batch – pacifications are limited.
When you complete one of the two new Arcades you'll unlock: The Neon Ninja Suit. Pay tribute to one of the original assassin groups in this elegant black shinobi shōzoku outfit, sewn from black leather for extra protection and elegantly stitched with thin neon lights, in case you get lost in the dark.
September 8 - Location Rotation: Hokkaido
The Free Location Rotation gives all players the chance to enjoy a location from the World of Assassination. This time you're going to Japan to visit the hyper-exclusive GAMA facility in Hokkaido. You have 10 days to enjoy everything the location has to offer. From the hot springs to life-saving surgery.
Time to beat your old high score on Doki Doki Pow Pow. Have fun.
September 9 - The Rage (Year 2 Edition)
*cracks knuckles* This HITMAN 3 Elusive Target takes Agent 47 back to Chongqing for a time-limited challenge that packs a punch!
Your target's codename is 'The Rage' and he's back in Chongqing once again. He's a former middleweight champion who's on the run for taking one fight way too far. He didn't get the nickname 'Crusher' for no reason, so make sure you stay on your toes for this one.
Be the eye of the tiger. You've got 10 days starting September 9.
September 15 - Elusive Target Arcade - Quack
Come September 15, you will be able to finally complete your Ducky Collection with the stylish "anonymous" Lucky Ducky Suit. Don't be fooled by this lovely, soft yellow hoodie, decorated with a cute "duck" motif. Though it might show that your blood is yellow – be bold, because you know it's stone cold. Black skinny jeans included.
Complete one of the new Elusive Target Arcade contracts (The Blusterous or The Bombastic) and the suit is yours. Good duck.
September 16 - The Surgeons (Year 2 Edition)
Your targets are Dr. Pavel Frydel and Dr. Akane Akenawa, brilliant and unethical transplant surgeons. They've arrived at the hyper-exclusive GAMA facility in Hokkaido, where they'll be for 10 days starting September 16.
One surgery went wrong, and they made a very powerful enemy. A billionaire who lost his son. Your client offers a substantial bonus if the targets are eliminated in a manner appropriate to the death of their former patient. Poetic justice? Good luck.
September 23 - The Stowaway (Year 2 Edition)
It's time to jump on a boat and go back to the Isle of Sgàil to find this elusive target. Your target is Jimmy Chen, a cynical and paranoid tabloid journalist who literally kills for a good story.
Your mission is to eliminate him and recover his dictaphone. But be careful, and don't let him spot you – because this target has some unique behavior and will react to your presence.
September 29 - Featured Contracts: Visit Ambrose
It's time to go island hopping in this upcoming batch of Featured Contracts. The theme is Visit Ambrose, and takes players back to the newest location in HITMAN 3. Visit Ambrose can be a tricky theme if you don't want to use the new location. But that being said, if you can find a sneaky way to frame it around Visit Ambrose without use of the location – it still counts.
How to get your Contract Featured: It can be based on a super creative briefing, a cool idea or just a plain fun contract. But bear in mind: They have to be inspired by the theme Visit Ambrose to be taken into consideration.
Up for a challenge? Click the link hitmanforum and get your submission in before Monday September 5.