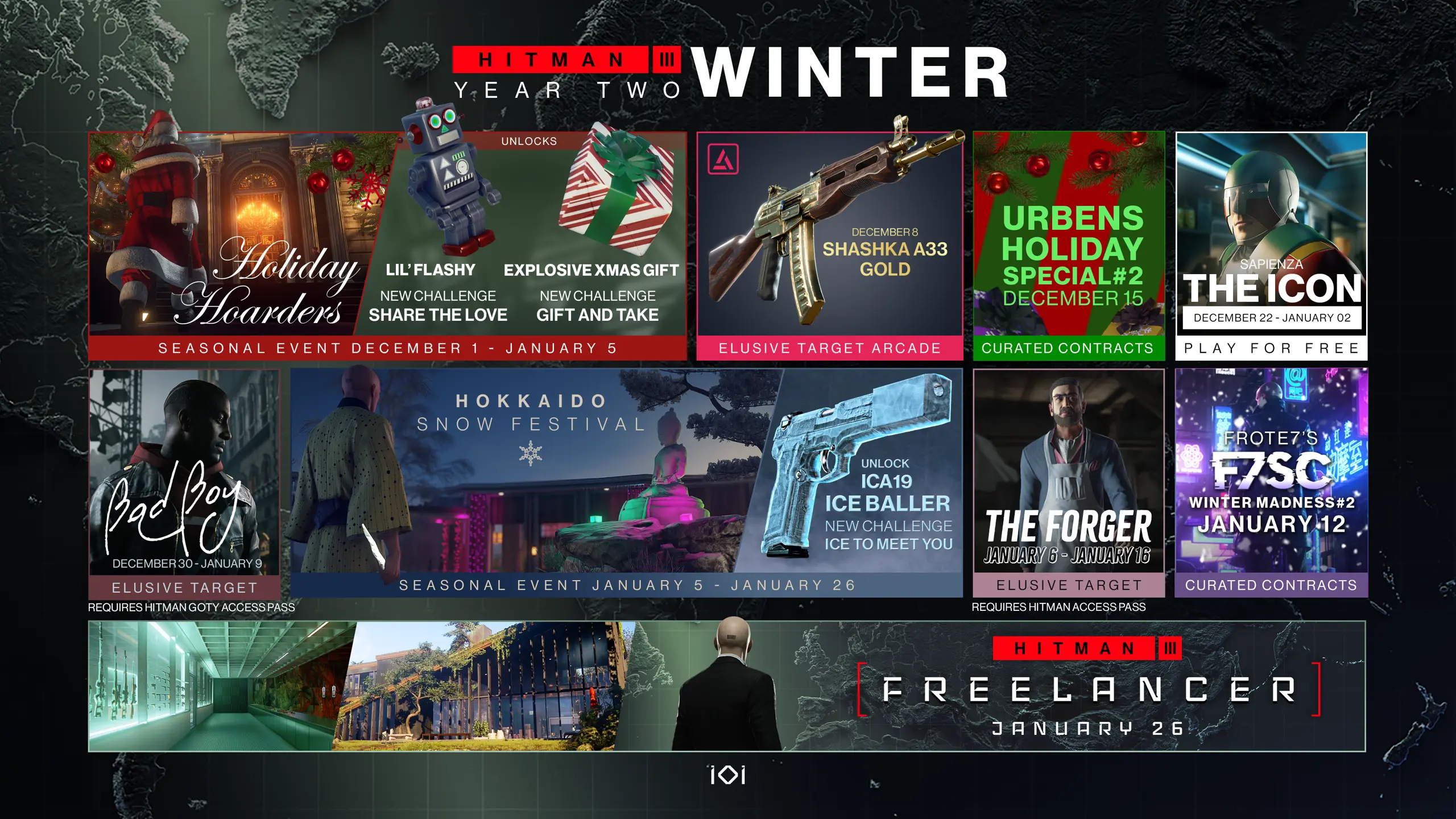 Roadmaps
December 1, 2022
HITMAN 3 - Winter Roadmap
December has arrived and we've prepared a traditional bumper roadmap with two months worth of content for HITMAN 3 players to unwrap and enjoy. Both December and January are packed into this special edition for the holiday period – and there are some new, festive-themed unlocks on the way too! Starting with a new challenge and unlock today to kick-start the month, through to the release of HITMAN 3 Freelancer on January 26, there's plenty to be excited about. Let's take a closer look at what's to come this Winter in HITMAN 3
December 1 - Holiday Hoarders + 2 unlocks!
It wouldn't be December in HITMAN without Harry, Marv and some holiday hoardin'. Paris is all decked out with snow cannons and glimmering lights, whilst there are also some new unlocks in town.
The first gift is Lil' Flashy, who felt like a perfect fit to be under the tree. He's small, endearing and useful in plotting certain assassinations. The second gift is literally a gift. It's also explosive, but crucially is not considered a suspicious item, so you can leave it lying around wherever you want without it arousing suspicious. Could be useful.
If this is your first time playing Holiday Hoarders, don't miss your chance to unlock the Santa 47 suit!
Holiday Hoarders is permanent for HITMAN 3 owners and will be available between December 1 and January 5 for Free Starter Pack players.
December 8 - Elusive Target Arcade
More content and gifts on the way with the Shashka A33 Gold Assault Rifle. Unlock this powerful and glamorous rifle by completing either of the Elusive Target Arcade Contracts arriving in early December. The Aesthetes or The Authoritarians.
December 15 - Urben's Holiday Special #2
Curated Contracts are collections of the best contracts out there. Hand-picked and refined by some of the community's best-known talents, they offer unique and fun challenges that you might never have encountered. Two batches of Curated Contracts are packed into this Winter Roadmap and first up is Urben's Holiday Special.
Urben's talents have seen them regularly appear in Featured Contracts batches in the past years, win competitions to get their face in the game and, as you might have guessed, were the mastermind behind the original Urben's Holiday Special in 2021. In fact, we should probably just send them a medal already. Thanks Urben!
December 22 - The Icon
Sapienza, by night with a huge movie set. That's the premise for The Icon, where Dino Bosco is taking one last shot at superstardom. Your job is to literally end his career, for good.
This mission can be played for free between December 22 and January 2.
December 30 - The Bad Boy
Sapiena, by night with a huge movie set and a former musician-turned-gangster who's in hiding from the police. The Bad Boy Elusive Target brings a different challenge to The Icon, but it's one that everyone can enjoy. Do it at the end of this year, or the start of next. The choice is yours.
January 5 - Hokkaido Snow Festival
Start 2023 at the Hokkaido Snow Festival and complete the new Ice To Meet You challenge to unlock the ICA 19 Iceballer. It's probably the coolest gun you'll ever have.
If this is your first time playing the Hokkaido Snow Festival, don't miss your chance to unlock the Snow Festival suit!
Free Starter Pack players can enjoy the HSF between January 5 and January 26, 2023.
January 6 - The Forger
HITMAN 3 Year 2's final Elusive Target is The Forger. Mr Larin, as he's known by his friends, was the first Elusive Target ever released back in 2016. This will be the first time he can be eliminated with a Shashka A33 Gold, Iceballer or Explosive Christmas Gift. He'll be in town for 10 days.
January 12 - Winter Madness #2
The Frote7 speedrun community knows a thing or two about creating and curating contracts. Last year, they featured here with the first Winter Madness contracts and told us about creativity, freedom of choice and replayability being at the core of a good contract. We're sure there will be more of the same this time around.
If you're interested in learning more about this community or are curious about the world of Hitman speedrunning, head to the F7SC Discord channel – or wait until January 12th when they arrive in-game.
January 26 - HITMAN 3 Freelancer
It's finally on the roadmap. HITMAN 3 Freelancer will arrive, alongside a major patch, on January 26 and will be a free addition for all HITMAN 3 owners. If you need more details about this exciting, rogue-like mode, head over to our Road to Freelancer series.
Extra note: There's intentionally no content releasing in the immediate week before the release of HITMAN 3 Freelancer. This is to give our Hitman team a clear focus and longer run up to the new mode release without any distractions.